Cervical Spine, Adult & Pediatric Scoliosis and Spinal Deformity Specialist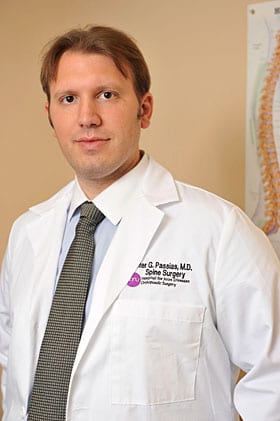 Dr. Peter Passias began his surgical training at the Tufts Combined Orthopedic Residency Program. Following residency, he performed his first spinal surgery fellowship at the Massachusetts General Hospital/Harvard University Medical School as a clinical and research spine fellow with a focus on biomechanical research and spinal oncology. He subsequently completed his second spinal surgery fellowship at the Hospital for Special Surgery/Cornell University Medical School. Dr. Passias is on staff at the Hospital for Joint Diseases and the NYU Langone Medical Center in Manhattan.
Dr. Passias has published and lectured extensively on numerous spine-related topics. Depending on the patient's condition, Dr. Passias performs spine surgery using well-established or cutting edge surgical technologies when applicable. Although Dr. Passias is trained to treat all conditions affecting the spine, including degenerative (disc herniation, degenerative disc disease, stenosis), deformity (scoliosis, kyphosis, flat-back), metabolic (osteoporosis), fractures, and tumors of the cervical, thoracic and lumbar spine, he has a special interest in treating spinal deformities and the cervical spine.