Smoking: Coughing from cigarette smoke can cause lower back pain or burning sensations from a herniated disk. A lack of blood flow to the spine can also cause numbness and tingling due to smoking.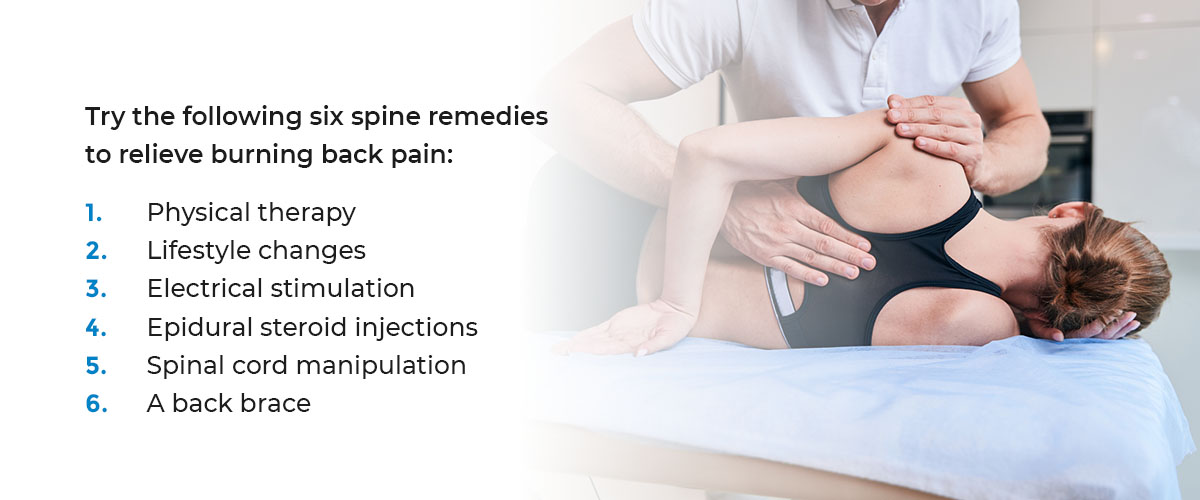 What Are the Treatment Options for Burning Back Pain?
Since back pain can impact your health, well-being and daily routine, you must find the best solution as quickly as possible. With the right specialists and plans to relieve your back pain by your side, you can return to your favorite activities and daily schedule.
Treatment options for burning back pain can be a journey of physical changes to your body without surgery or a quick procedure to offer relief faster. Depending on what causes your back pain, a doctor may recommend surgical or non-surgical methods to get you back to feeling yourself again. 
If you prefer holding off on surgery and your doctor gives you the green light to receive non-surgical treatments, you might try the following six spine remedies to relieve burning back pain:
Physical therapy
Lifestyle changes
Electrical stimulation
Epidural steroid injections
Spinal cord manipulation
A back brace
In some cases, your back condition may require surgery to correct the spine's structure to relieve compression. Luckily, most spinal surgeries to alleviate burning back pain are minimally invasive or can alleviate pain quicker than non-surgical methods. 
Common neurosurgeries associated with back pain include the following:
Spinal fusion
Artificial disk replacement
Laminectomy
Cervical or lumbar discectomy
Kyphoplasty and vertebroplasty 
When You Should See a Doctor
Over time, minor back pain can evolve into a health condition that disrupts your daily routine. To avoid changing your day-to-day plans or adapting to new circumstances due to burning back pain, you should see a doctor as soon as possible to assess your needs. 
If your back pain results from a herniated disk, spinal stenosis, scoliosis, vertebral fractures or sciatica, your doctor will most likely recommend visiting a neurosurgeon as quickly as you can make an appointment. These conditions are more challenging to treat without surgery, so having a trusted neurosurgeon to provide the relief your back needs to function correctly is essential. 
If you suspect you are living with one of those conditions, you can skip the doctor's office and meet with a neurosurgeon immediately. They can help uncover the cause of your burning back pain and assess the best treatment option for you.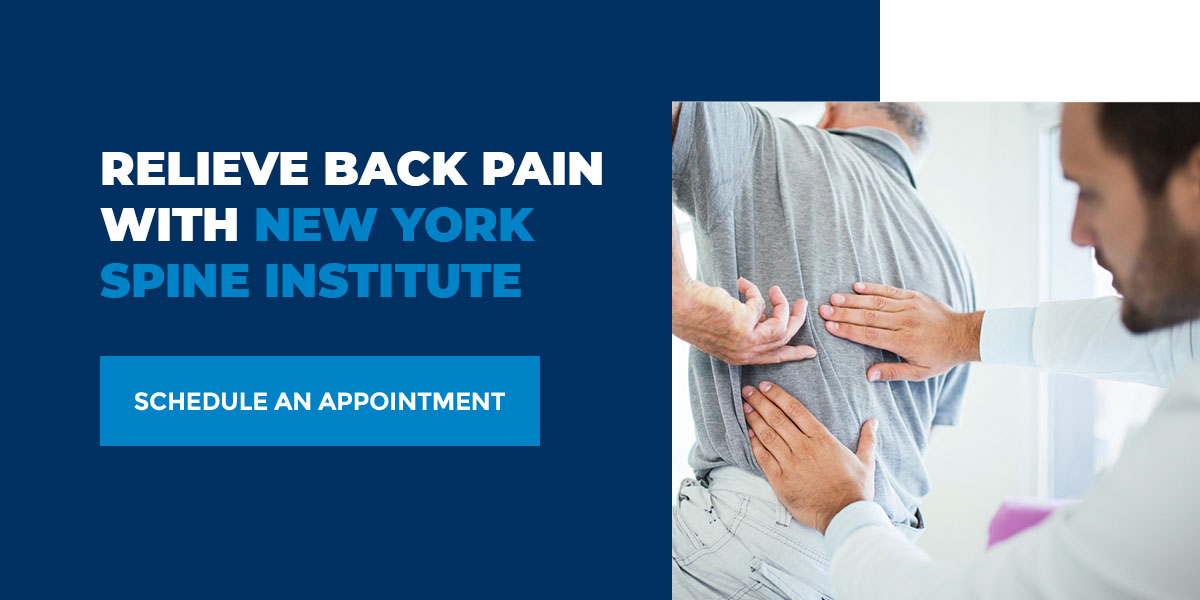 Relieve Back Pain With New York Spine Institute
When you need relief from burning back pain, New York Spine Institute can help. We are proud to be one of the largest multi-specialty spine and orthopedic centers in the tri-state area. With our growing team of dedicated patient-care providers, our top priority is assessing your medical needs with experience, research and advanced training so you can enjoy an improved quality of life. 
Our wide range of services focuses on the first step of diagnosing your back condition, finding the right treatment options and managing your pain. We are there for you every step of the way to ensure an efficient recovery for your back pain.
Schedule an appointment today to find the comfort you and your back need.