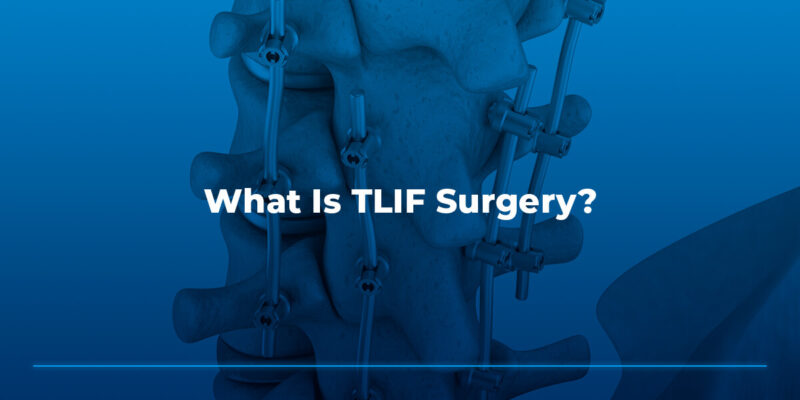 Transforaminal lumbar interbody fusion (TLIF) is one of the latest spinal surgery methods, modernizing how we treat common spinal ailments. Neurosurgeons conduct the procedure on the lower back by fusing spinal bones or vertebrae with screws and a titanium cage. Compared to other fusion surgeries, TLIF surgery is associated with less scarring due to smaller incisions, less post-operative pain and a faster recovery time.
The TLIF procedure can treat a wide range of spinal ailments, though you'll want to discuss the option with a neurosurgeon to determine if it's right for you.
What Is a TLIF Procedure?
The TLIF procedure is one of several methods of spinal fusion surgery. The surgery eliminates the movement between the vertebrae by removing the intervertebral disc, which generally allows the spine to bend and rotate and insert a bone graft in its place. Neurosurgeons use the natural pathway in the spine to fuse the front and back with a single approach. The bone graft heals over several months, gradually fusing the vertebrae and stabilizing the spine.
The procedure typically involves:
Decompressing the nerves in the lower back.
Removing a facet joint.
Removing the intervertebral disc.
Stabilizing the disc level with screws into the bones above and below.
Fusing the spine by placing a titanium cage made with bone graft material into the disc space.
TLIF surgery offers advantages over alternative techniques like posterior lumbar interbody fusion (PLIF), including a higher success rate. While both involve laying down bone graft or a substitute across spine areas to stimulate bone growth, TLIF takes a different trajectory to remove the disc and insert the graft and cage into the space. It exposes the nerves to a lower risk of injury than PLIF and potentially less post-op and long-term back pain.
TLIF can be performed as an open surgery or a less invasive surgery. A diagnosis for TLIF first considers the history of the problem and a neurological exam. Neurosurgeons will ask questions about whether you've had an injury, the location of the pain and if you're experiencing numbness or weakness. They might also assess if you've had similar problems in the past or specific symptoms like weight loss or fevers.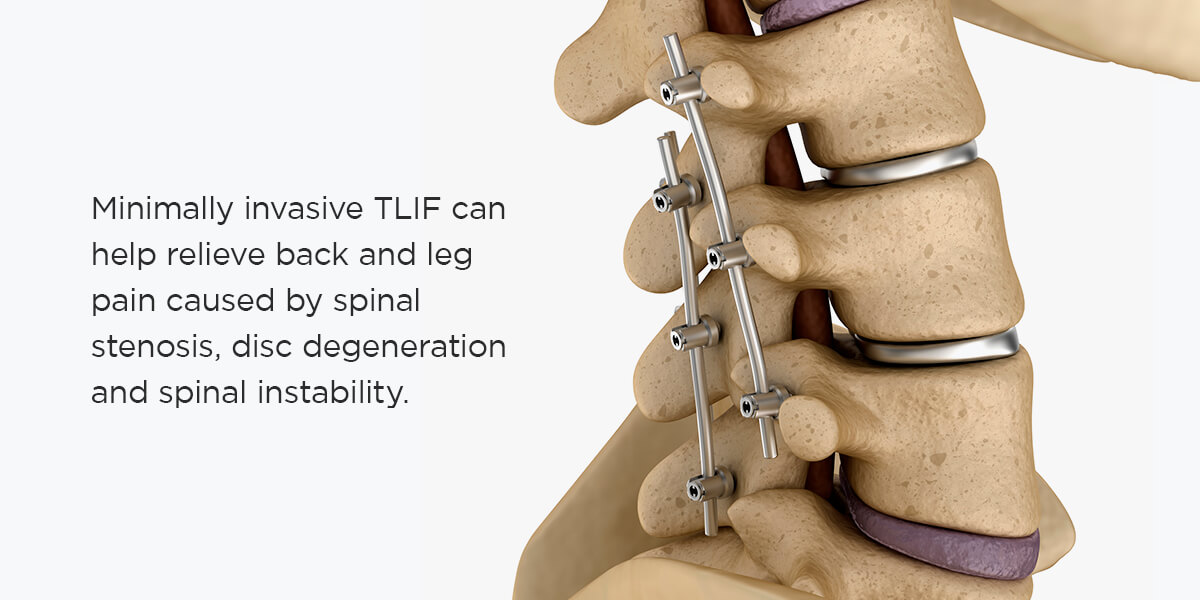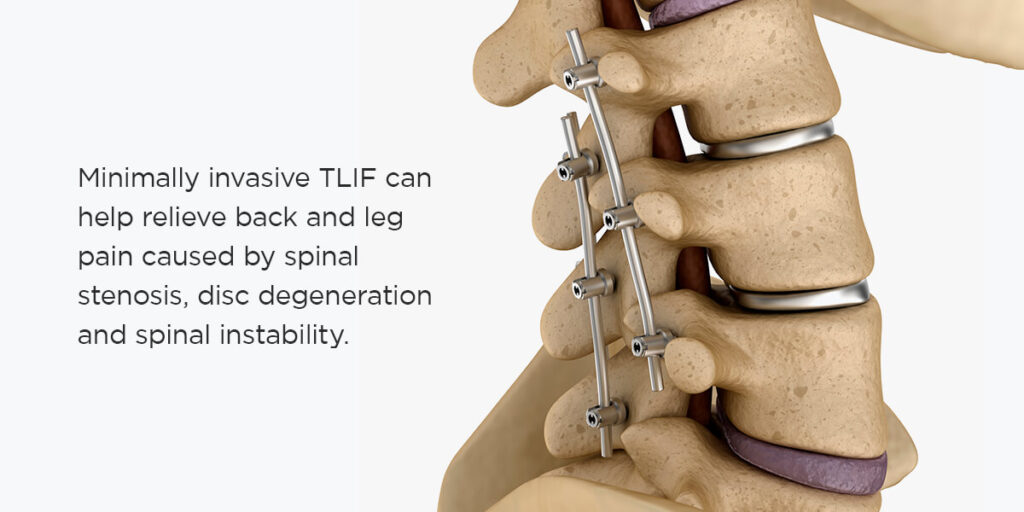 What Is MIS TLIF Surgery?
Minimally invasive transforaminal lumbar interbody fusion (MIS TLIF) is an approach that makes spinal surgeries less invasive than TLIF or open TLIF. As a result, it's meant to give more favorable outcomes during and after the operation. Minimally invasive TLIF can help relieve back and leg pain caused by spinal stenosis, disc degeneration and spinal instability.
To stabilize the spine, the MIS technique involves:
Making two small incisions on each side of the back.
Using special instruments called retractors to expose the back of the spine with minimal disruption to the muscle tissue.
Removing a small amount of bone and ligament causing pressure on the spinal canal.
Removing the pain disc and replacing it with a titanium fusion device.
Screwing titanium rods and screws into the bones above and below the disc.
Closing the incision with stitches beneath the skin.
The surgery typically takes one to two hours, depending on the number of levels being fused.
No matter the exposure type, TLIF procedures' goals are the same. However, compared to standard TLIF, minimally invasive exposure involves only making small incisions. This can minimize disruptions to the body's tissues, resulting in less post-op pain, blood loss and a shorter recovery.
Learn About TLIF from Dr. Roberts
What Does TLIF Surgery Treat?
Surgery might be the first treatment option recommended if you have significant instability or neurological problems. TLIF surgery can help treat patients with the following conditions:
What to Expect from an MIS TLIF Surgery
Many potential candidates fear the unknown with surgery. Hear directly from Dr. Roberts what you could expect as a recipient of the TLIF surgery. 
What Is the Recovery Time for an MIS TLIF Procedure?
Compared to TLIF, the recovery time from MIS TLIF tends to be much shorter. That's because it requires smaller incisions, less disruption to muscle tissue and, therefore, less pain. Your doctor will provide a special brace for the next three months to wear when you sit, stand or walk.
The recovery timeline will vary from patient to patient, though generally, it is as follows:
When you can leave the hospital: Discharge times depend on how many levels are operated on. For an MIS TLIF procedure, you may be released the next day, while traditional TLIF may require up to five days in the hospital. You might be prescribed pain medications to manage pain and use a spinal brace to support the back as it heals.
When you can resume day-to-day activities: While it varies, you can often resume your daily activities after six to eight weeks for a TLIF procedure and a month after MIS TLIF. You'll be advised to take it easy during that time, walk for at least an hour a day and avoid continuously sitting for more than 15 to 20 minutes. After limiting activities in the first several weeks following the procedure, you can gradually increase the actions you can tolerate.
When fully recovered: You can expect to fully recover between one to two years following a TLIF surgery and even shorter after an MIS TLIF surgery. Your neurosurgeon will review you around the 6-month mark to ensure you're progressing well. Signs of recovery from TLIF and MIS TLIF surgery include increased energy and activity without discomfort. You can speed up recovery by staying positive, getting plenty of rest and eating a healthy, well-balanced diet.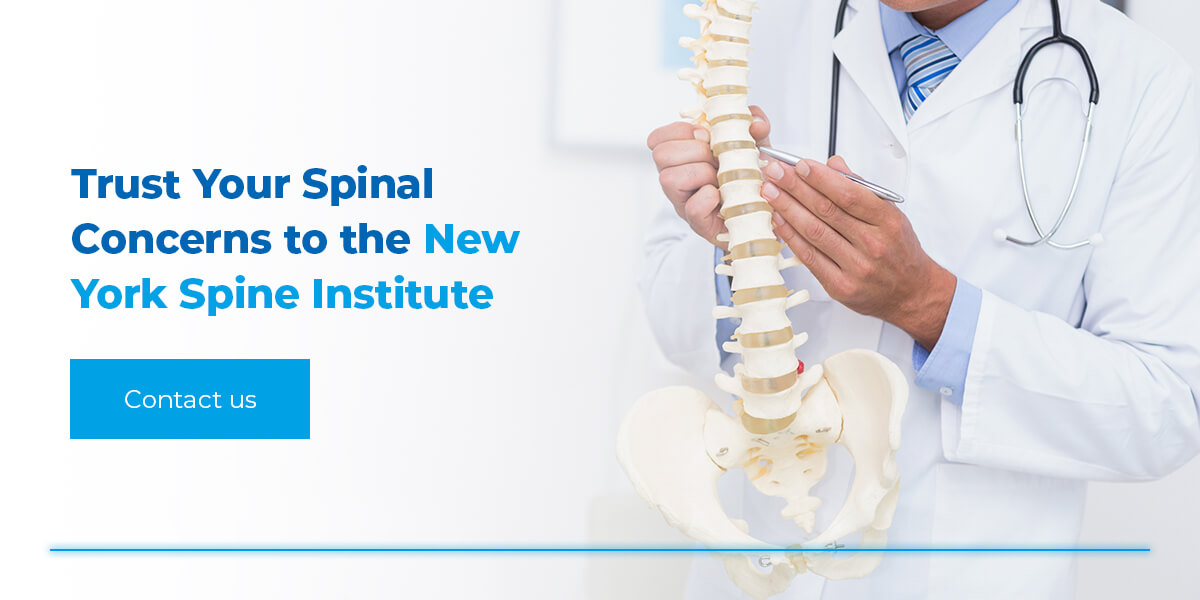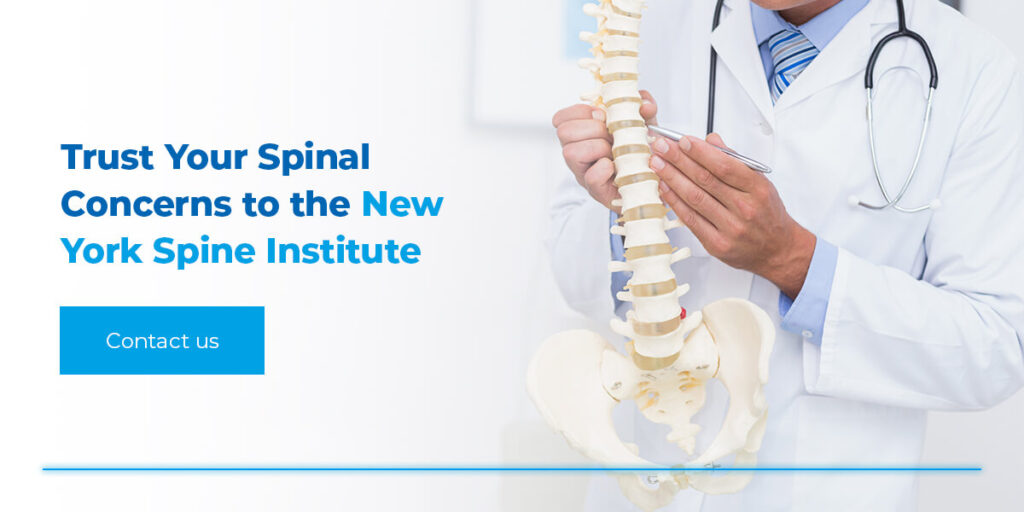 Trust Your Spinal Concerns to the New York Spine Institute
If you are experiencing a painful spinal condition, TLIF or MIS TLIF surgery can provide relief. At New York Spine Institute (NYSI), we treat everything from common spinal disorders to complex spinal conditions to help you improve your quality of life and return to the activities you love. Our specialized divisions include neurosurgery, scoliosis and orthopedic spine care and we use the latest diagnostics and medical treatments to get to the root of your disorder.
To discover how our specialists can help, schedule an appointment today.