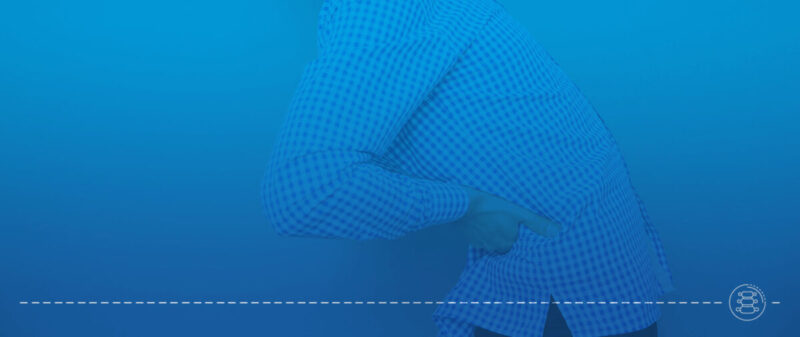 Spinal discs are rubbery, shock-absorbing cushions between your spinal bones, or vertebrae. They prevent the vertebrae from grinding against each other and support stress incurred by the body during movement. When the spinal column weakens or tears, these discs can protrude outward and pinch nearby nerves.
This phenomenon is known as a ruptured disc. It's a common condition affecting over 3 million people in the U.S. annually. Read on to learn more about ruptured discs, including causes, symptoms, diagnostic methods and treatment options.
What Is a Ruptured Disc?
A ruptured disc — also called a herniated or slipped disc — occurs when a portion of your spinal disc bulges or ruptures, slipping out of place. This irritates the surrounding nerves, causing pain, discomfort, numbness and weakness throughout the body.
How Serious Is a Ruptured Disc?
In most cases, disc herniation doesn't warrant serious concern. Symptoms typically subside after a few weeks of self-care. However, surgery may be in order if your pain worsens, becomes chronic and persists for months.
What Causes a Ruptured Disc?
Spinal discs can weaken and rupture for various reasons, from daily work and activities to a sudden, traumatic injury. Certain biological factors and lifestyle choices may also play a role in this condition. Some common causes of herniated discs include:
Disc degeneration: A ruptured disc often stems from disc degeneration, a gradual wearing of the spinal discs. When you get older, your discs naturally lose flexibility. This makes them more vulnerable to tears and ruptures, even from a minor twist or strain.
Trauma: In some cases, a fall, blow to the back, sports injury or another traumatic event may cause a herniated disc. In an automotive accident, for instance, the abrupt jerking movement can put pressure on the disc and cause it to slip out of place.
Genetics: Some people inherit gene variations that heighten their risk of developing intervertebral disc disease. This makes them more susceptible to disc herniation.
Weight: Excess body weight can put additional stress on the discs in the lower back, increasing their risk of slipping.
Occupation: Physically demanding jobs with repetitive bending, lifting, twisting, pushing and pulling can increase the risk of a ruptured disc.
Smoking: Research suggests that smoking reduces oxygen supply to the spinal discs, causing premature wear.
Sedentary lifestyle: Extended periods of sitting or inactivity can put more pressure on the back and spine, increasing the chance of disc herniation.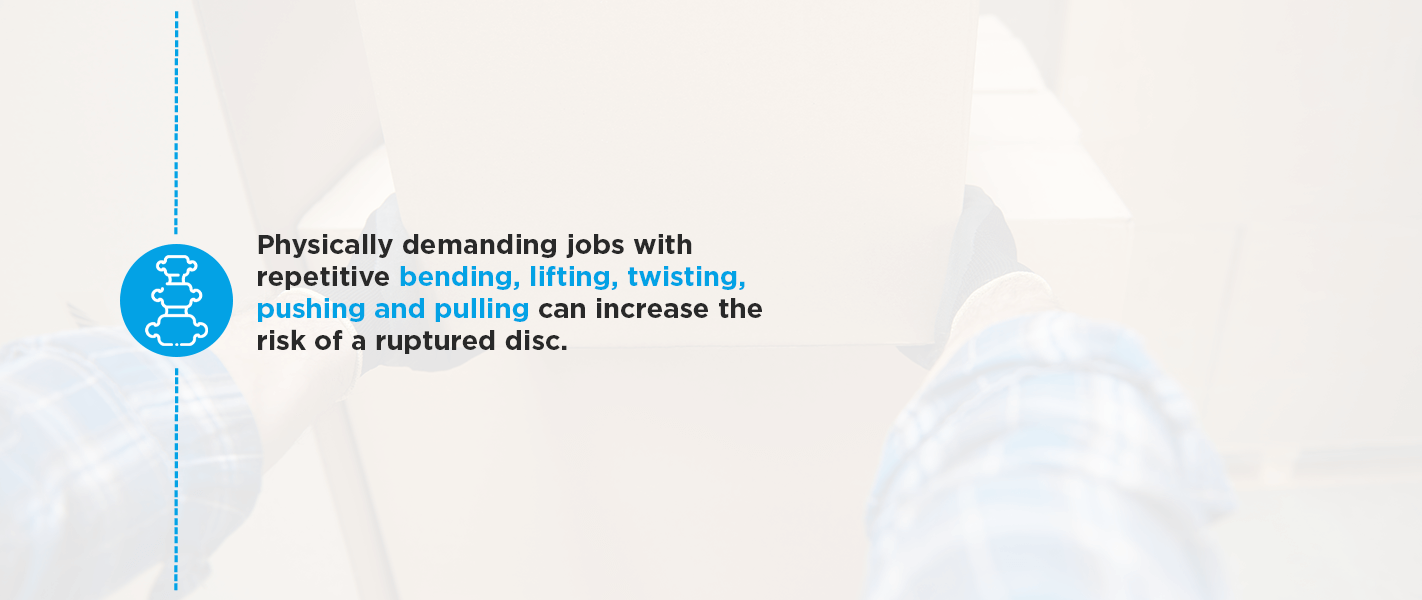 Symptoms of a Ruptured Disc
Some common symptoms of disc herniation include:
Sharp pain from the sciatic nerve that moves through the lower back, thighs and buttocks
Arm or leg pain
Numbness, tingling or weakness in the body
Neck stiffness
Burning sensation
Muscle spasms
Ruptured Disc Diagnosis
Doctors can often diagnose herniated discs based on symptoms — especially sciatica, as pinched nerves around the discs typically affect the lower extremities. They'll perform a comprehensive exam, asking detailed questions about your symptoms, injury or medical history for an accurate diagnosis. In some cases, your doctor may also order medical imaging, such as:
EMG: An electromyogram (EMG) measures electrical activity in the muscles and nerves. A doctor places small needles into various muscles to evaluate nerve function, identifying any compression or damage. An EMG can detect which nerve a ruptured disc affects.
X-ray: An X-ray can help your doctor rule out other causes of back or neck pain.
CT scan: A computed tomography (CT) scan uses X-rays to create three-dimensional images of the spine. A CT scan can display evidence of herniation, as ruptured discs can move and press into the surrounding spaces of the spinal cord and nerves.
MRI: Magnetic resonance imaging (MRI) is the most common and reliable diagnostic method for herniated discs. An MRI scan uses radio-frequency waves and magnetic fields to produce detailed images of the spine, revealing abnormalities within the disc. Additionally, it can highlight evidence of previous injuries and other spinal details that an X-ray may have missed.
Treatments for Ruptured Discs
After diagnosing a herniated disc, your doctor will determine an appropriate treatment plan based on pain levels, symptoms and severity. Minor disc rupture may only need home-care techniques like rest, ice, heat or anti-inflammatory drugs. More complex cases might require stronger medications or physical therapy. Incredibly painful or severe herniated discs may warrant surgery.
Below are various surgical and non-surgical treatment options for ruptured discs.
1. Medication
For mild or moderate pain, your doctor may suggest nonprescription pain medication such as acetaminophen, ibuprofen, naproxen sodium or aspirin. If over-the-counter pain relievers and other home remedies aren't successful, they may prescribe muscle relaxers.
2. Physical Therapy
Your doctor may recommend physical therapy sessions to relieve your discomfort. A physical therapist can show you different exercises, stretches and positions to minimize herniated disc pain.
3. Heat or Ice
Applying an ice pack to the affected area can help numb the nerves and alleviate pain. Additionally, a heating pad or hot bath can help loosen tight muscles, allowing you to move more comfortably.
4. Cortisone Injection
If oral medications don't relieve your pain, your doctor may recommend a corticosteroid injection around the spinal nerves to reduce inflammation. However, cortisone injections don't provide long-term relief — their effects typically wear off after a few months. There are also limits to how many injections you can safely receive in a given year.
5. Surgery
If your sciatica and pain continue for over three months, it's considered chronic and may require surgery. Ongoing numbness or weakness, loss of bladder or bowel control, and difficulty standing or walking can also indicate a need for surgical intervention. Different procedures for ruptured discs include:
Anterior lumbar interbody fusion (ALIF): ALIF surgery helps stabilize the spine by fusing together the vertebrae. It approaches the spine through the abdomen rather than the lower back. ALIF is generally used to treat severe leg or back pain from disc degeneration.
Lumbar disc microsurgery: Lumbar disc microsurgery is a minimally invasive procedure that removes the herniated portion of the spinal disc. It involves a small incision in the back to reach the vertebrae. This operation is highly effective in eliminating sciatica from nerve root compression.
Full recovery from herniated disc surgery may take up to several weeks. In the meantime, try to refrain from strenuous activities like twisting, bending down and lifting heavy objects. Be sure to follow your doctor's instructions during recovery and let them know if you experience any complications.
Relieve Ruptured Disc Symptoms With New York Spine Institute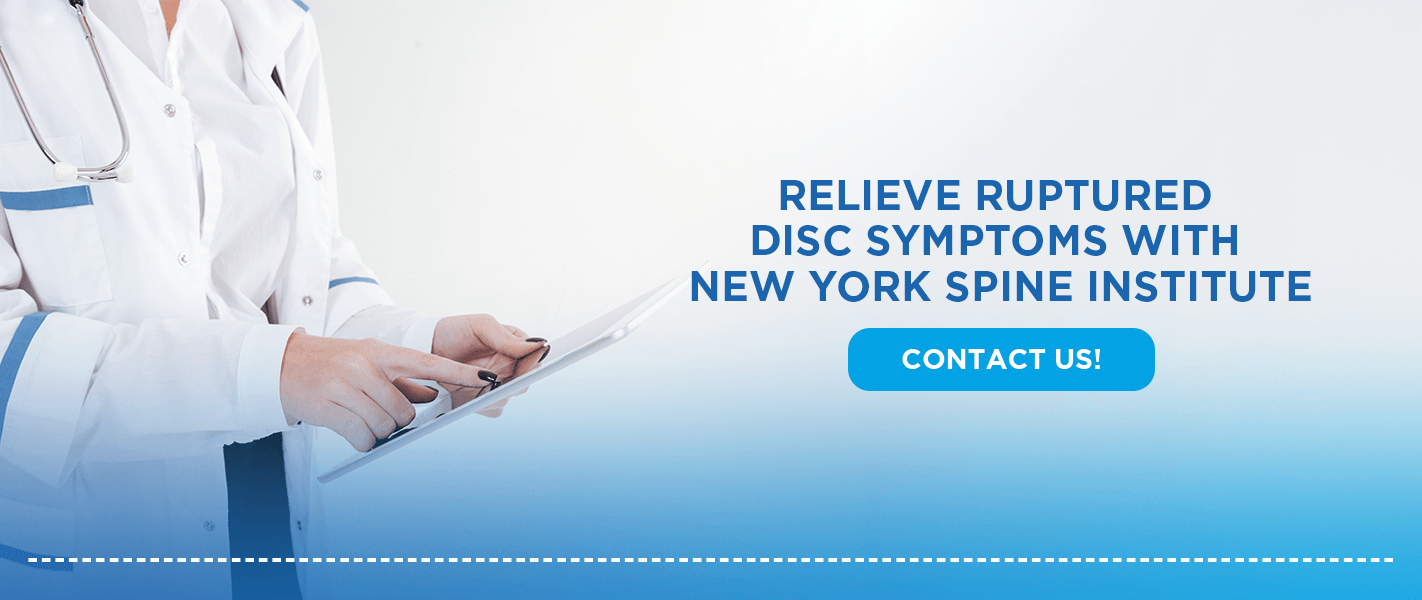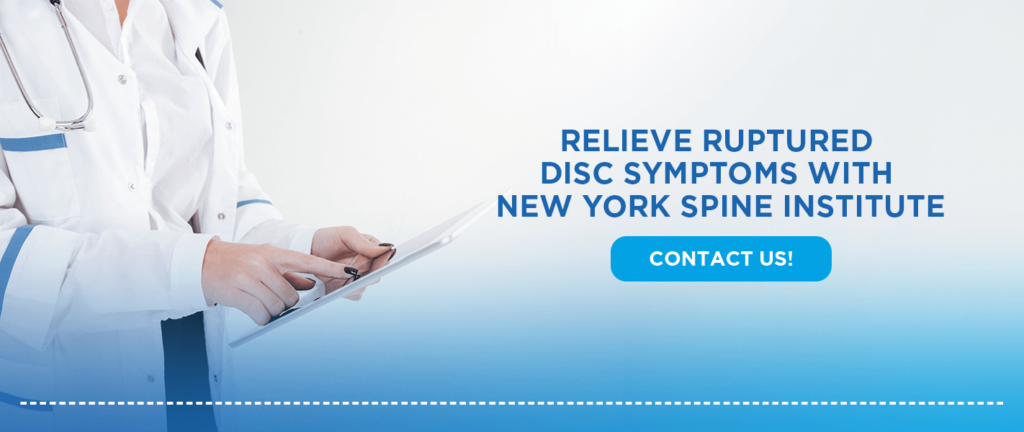 If you suspect you have a ruptured disc, our team at New York Spine Institute can assist you. As one of the tri-state area's leading spine and orthopedic centers, we perform a variety of world-class services including physical therapy, minimally invasive and complex neurosurgery, diagnostic medical imaging and more.
We can deliver the treatment you need based on your unique circumstances, symptoms and pain. Contact our center to set up an appointment and begin treatment.